ti8 dota 2: นี่คือโพสต์ที่เกี่ยวข้องกับหัวข้อนี้
During the weeks leading up to TI10, GosuGamers will be taking a closer look back at the meta for each of The Internationals through the years. This week is TI8.
We are towards the tail end of the journey to look at the metas which blessed the former versions of The International, and our penultimate stop is one of the craziest esports stories to ever have unfolded. The International 2018, or TI8, will be remembered for quite a few reasons, including the fact that it possibly had the best TI grand finals to date.
TI8 was held at the Rogers Arena in Vancouver, which was the first time it had travelled from Seattle since 2018. The prize pool for the tournament, thanks to the TI8 Battle Pass, had gone up to nearly $25.5 million from $24.8 million from the previous year. The winners of TI8 were destined to get the same percentage as the winners of TI7 – 44%, which came out to be a little over $11.2 million.
Format
The format for TI8 was pretty much the same as TI7. There were a total of 16 teams-
●        8 invited based on the Dota Pro Circuit (DPC) rankings
●        10 qualified (1 from EU, 1 from CIS, 2 from China, 2 from SEA, 3 from NA, 1 from SA)
The two groups had 9 teams each, with every team playing a best-of-2 against every other team in their group. The top four teams went to the upper bracket, while teams 5 to 8 went to the lower bracket. This was very similar to the format for TI7, was the same for TI9 and from the looks of it, will be carried over to TI10 (a total of 18 teams are travelling to Bucharest).
The three strongest teams going into TI8 were Virtus Pro, Team Liquid and PSG.LGD. The 2017-2018 Dota 2 season was the first year when the Dota Pro Circuit (DPC) had been launched, and there were a whole bunch of Majors and Minors, all third party events in which Valve contributed to the prize pool. Virtus Pro won four of the nine Majors, PSG.LGD won two, with Team Secret, Mineski and Team Liquid winning one a piece. But Team Liquid's win came at the very end, in the China Dota 2 Supermajor, which was the last Major of the year and a prize pool and DPC point reward which were 1.5x the other Majors. Most would have predicted two of the three (VP, Liquid or PSG.LGD) to end up in the grand finals. As it turned out, only one of them did – PSG.LGD.
OG had an abysmal year. Not only had they failed to make it to most Majors, but two of their players also left just before the TI8 qualifiers, leaving the team in shambles. With a last minute team in place, they made it through the EU qualifiers for TI8, and everyone had them getting eliminated early on in the tournament. After a bad start to the group stages, the Green Dream came to life in days 3 and 4 of the group stages and just managed to secure an upper bracket place for themselves. The rest, as they say, is history. No one was able to take down OG in a series in their inspirational and unexpected run across the finish line. On the way to the grand final, they also pushed down their eventual opponents, PSG.LGD, to the lower bracket final to face off against Evil Geniuses.
OG




Anathan
"ana-"
Pham





Topias Miikka
"Topson"
Taavitsainen





Sébastien
"Ceb"
Debs





Jesse
"JerAx"
Vainikka





Johan
"N0tail"
Sundstein


PSG.LGD




Wang
"Ame"
Chunyu





Yao
"Somnus丶M"
Lu





Shenyi
"Chalice"
Yang





Xu
"fy"
Linsen





Jian Wei
"xNova-"
Yap


General changes
Going from TI7 to TI8, Dota 2 went through a lot of patches. IceFrog and Valve introduced the 'new patch every two weeks' system, which led to the patches jumping from patch 7.06e for TI7 to patch 7.19 for TI8. Two new heroes were added to the game – Dar Willow and Pangolier, who also made it to Captain's Mode for TI8. Let's take a look at the general changes in that period that would have the biggest impact on the game.
●        Middle lane no longer has an additional melee creep
●        Denies XP granted to the enemy (the player being denied) reduced from 70% to 25%
●        Denied XP gained by the denier reduced from 30% to 25%
●        Removed Shrines from the base (replaced by filler buildings)
●        Glyph now causes your creeps to be invulnerable for the glyph duration
●        Third Roshan kill now drops a single-use consumable Refresher Shard (Cooldown is independent from Refresher Orb)
●        Neutrals now sleep at night (They have zero aggro range while sleeping)
●        Captains Mode now has an extra ban in the first phase (6 bans total in the mode)
●        Removed the remaining Unique Attack Modifiers
▪          Lifesteal is no longer a Unique Attack Modifier (stacks additively)
▪          Arcane Orb is no longer a Unique Attack Modifier
▪          Mana Break is no longer a Unique Attack Modifier (does not stack with Diffusal Blade's Mana Break)
●        Five New Items: Aeon Disk, Kaya, Meteor Hammer, Nullifier, and Spirit Vessel
●        Roshan now has 25% Status Resistance
●        Starting gold reduced from 625 to 600
●        Killing a neutral camp stack now gives a bonus 25% gold bounty to the hero that stacked it. No bonus is given if the stack is cleared by an enemy or the hero that stacked it.
●        Buyback cost changed from 100 + (Level × Level × 1.5) + (Time × 0.25) to 100 + NetWorth ÷ 13
●        Buyback no longer reduces gold earned after respawning
●        Glyph duration increased from 5 to 6
●        Bounty Runes
▪          Now spawn every 5 minutes
▪          Now grants gold to each player (40 + 3/min)
▪          Now fully fills bottles
●        Sentry Ward duration increased from 4 to 6 minutes
The meta that developed around patch 7.19 (starting from a few patches before it) was one where the laning stage was extremely important. In interviews I did with Notail, Neta "33" Shapira and Tal "Fly" Aizak at TI8, this is what they had to say about the meta-
Notail: I have preferred other metas to this one because I'm not a fan of the fact that laning decides so much of the game. The deny mechanic takes some of the fun away from the game. There are certain heroes that players want to play but can't because they just cannot lane well. Back in the day, laning was a part of it, but what mattered more was how your lineup works together, how your lineup counters the opposition lineup.
33: Lanes are very important in this meta and the initiators just cannot win the lane. So instead, heroes like Weaver and Mirana are picked so you can win the lane. If you can get out of the laning phase in good shape, those heroes like Tide are really good. But most times, you will lose the lane with them and it is not worth it.
Fly: Very small things, like a single deny or a single misuse of a spell can change everything in the lane! So it is very skill based right now, which I think is cool.
A common theme can be seen from all three statements here – the laning stage was extremely important! One of the reasons that was the case was because when a creep was denied by a player, the enemy heroes only got 25% of the experience of the creep instead of the previous 70%. Denies had an extremely important part to play in the laning stage (more so than ever before) and if one team got the better of it, they came out a lot better from the laning stage and were able to take over the game.
With the laning stage having that kind of importance, teams started forgoing a lot of the traditional offlaners which typically can lose the lane, but make their presence felt in team fights later on in the game. Heroes like Weaver, Ursa and Wraith King, which were typically seen in the safelane, began making appearances in the offlane. It resulted in a TI meta like never before.
The ban and pick phases did change going from TI7 to TI8. The order for Captains Mode for TI8 has been shown below. The biggest change was the addition of a sixth ban, which was put in place in the first phase, making it three bans in the first phase, two in the second and one in the third. This made it quite difficult to get the strong picks through. But there were quite a few good heroes in the meta, which kept things interesting in the drafts.

A few things to take note of before we jump into the games-
●        This was only the second ever TI grand final to go to five games after the TI3 grand final between Alliance and Na'Vi.
●        In terms of length based on game times, this was the longest TI grand final.
●        Spectre and Nature's Prophet were banned in the first phase of four of the five games, which Tiny was banned in the first phase of all five games of the grand final.
●        Except for game 4 which lasted nearly a little over 65 minutes, all the other four games finished between 34 and 39 minutes, which was indicative of the meta that had developed around Dota 2 patch 7.19.
●        Teams either had Radiant or first pick in the first four games. In the fifth game, PSG.LGD had Radiant with first pick, which was a curious deviation.
All images of game details are taken from Dotabuff.
Game 1 (OG Radiant, PSG.LGD Dire with first pick)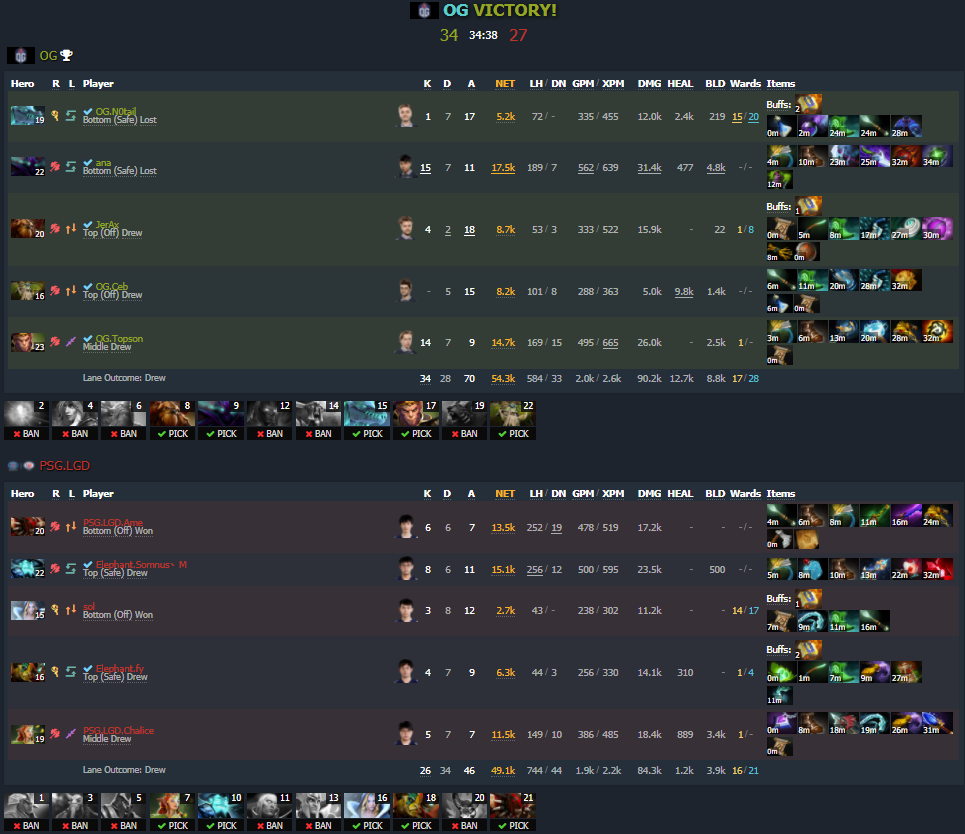 The name of the game for OG was to get Spectre in ana's hands. Irrespective of how bad they started the game, if ana's Spectre hit critical mass, he had proven it to be a hero that could turn games. That was exactly what happened in game 1, with PSG.LGD taking the lead, but OG holding on and making a comeback on the back of the Spectre.
OG often played with offlaners like Treant Protector and Winter Wyvern for Ceb, which kept opponents guessing and gave them a slight upper edge in terms of the mysterious factor in what the hero would be prioritized to do. As a team which came into the tournament as the darkest of horses with no expectations, OG deviated from the meta and went for what they believed in multiple times.
Game 2 (PSG.LGD Radiant, OG Dire with first pick)
PSG.LGD leveled the series to 1-1 after winning game 2. In game 2, they got their hands on the Earthshaker, a hero which did very well at TI8 and the one that helped put PSG.LGD in the lower bracket final after an insane save by Jerax in game 3 of the upper bracket final between the two teams. Not surprisingly, it got banned out in games 3 and 4.
Game 3 (OG Radiant, PSG.LGD Dire with first pick)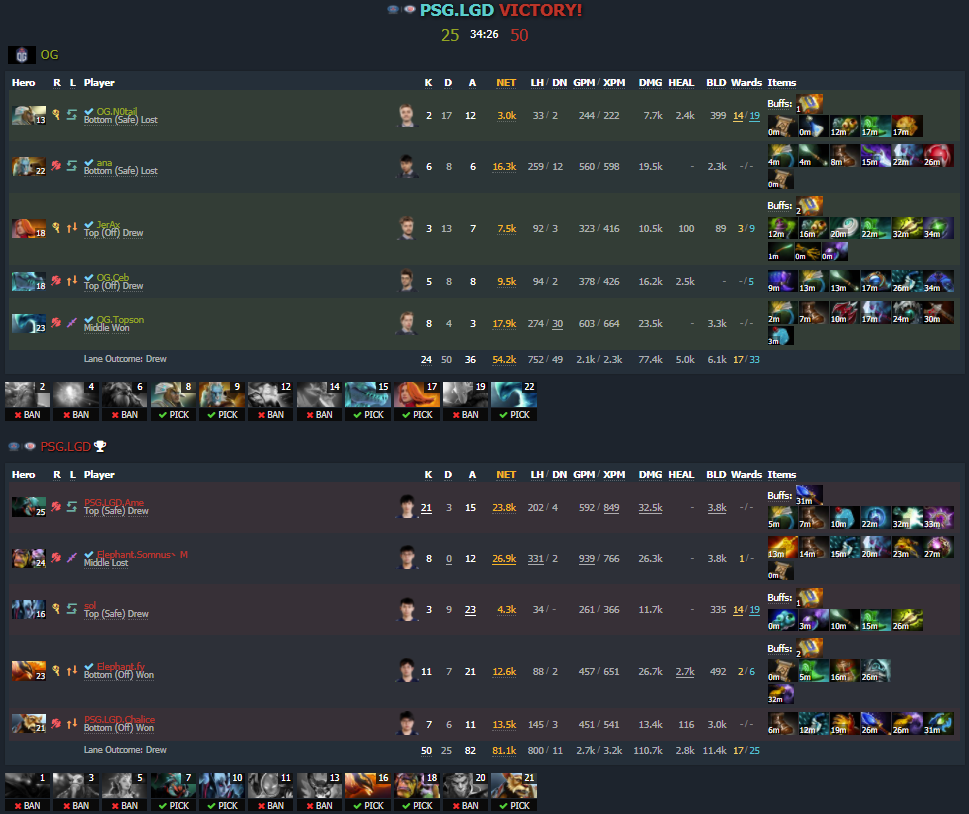 Nothing too out of the ordinary sticks out in the games in terms of heroes and items. Ceb did play his position 3 Winter Wyvern in game 3, but PSG.LGD were ready for it. fy's performance on the Phoenix in game 3 was out of the world, and was a testament to why he is hailed as a God. PSG.LGD took it comfortably on the back of a farmed Maybe Alchemist to take a 2-1 lead in the series.
PSG.LGD got their hands on Weaver, a hero who could be flexed in either of the side lanes. Expecting it to go in the offlane, OG wasted their last phase ban on a carry. That was an added benefit of the unorthodox offlaners of the TI8 meta.
Just in the first 3 games, 26 unique heroes were played! Only four heroes saw repeat picks, which shows how diverse the meta was.
Game 4 (PSG.LGD Radiant, OG Dire with first pick)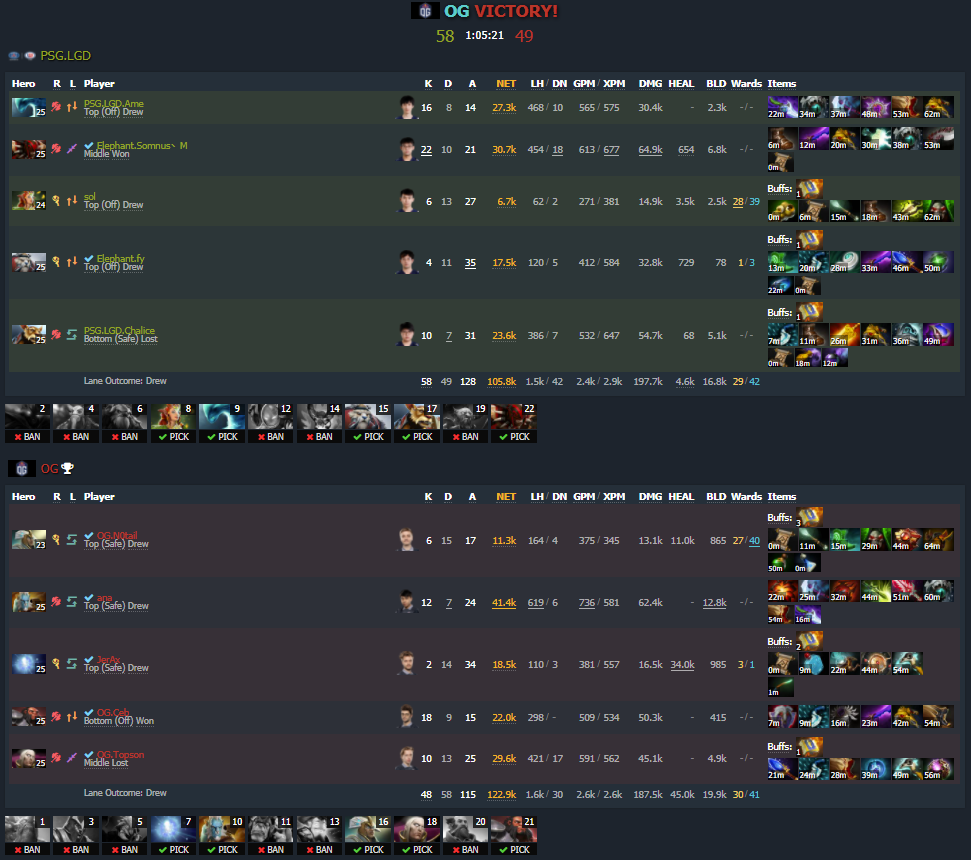 This can be hailed as a lot of things – game of the series, game of the tournament, the best game ever in the grand finals of a TI, game to have caused the biggest changes in blood pressure of the spectators..the list can go on. It was a game full of back and forth action, edge of the seat fights, buy backs, you name it. At a time when it seemed PSG.LGD would win it and take the Aegis back to China, which was the tradition for even iterations of The International, OG pulled off some of the most insane plays witnessed at TI8 to bring the series back to parity. The one that will stay in the minds of the Dota 2 community is Ceb's clutch Berserker's Call on Axe, which ODPixel immortalized with his casting.
In terms of meta related things, Ame went for a Diffusal Blade on Morphling because back then, somehow Phantom Lancer's Juxtapose applied to Morphling's Morphed form as well, so the plan was to play as the Phantom Lancer for a majority of the fights. Also because Morhphling back then had two completely separate HP and mana bars for his original and morphed form, it gave him an added advantage to play a majority of the fight as a different hero and morph back when he was low on HP and mana. OG however, picked the perfect counter to it in the form of Axe.

Game 5 (PSG.LGD Radiant with first pick, OG)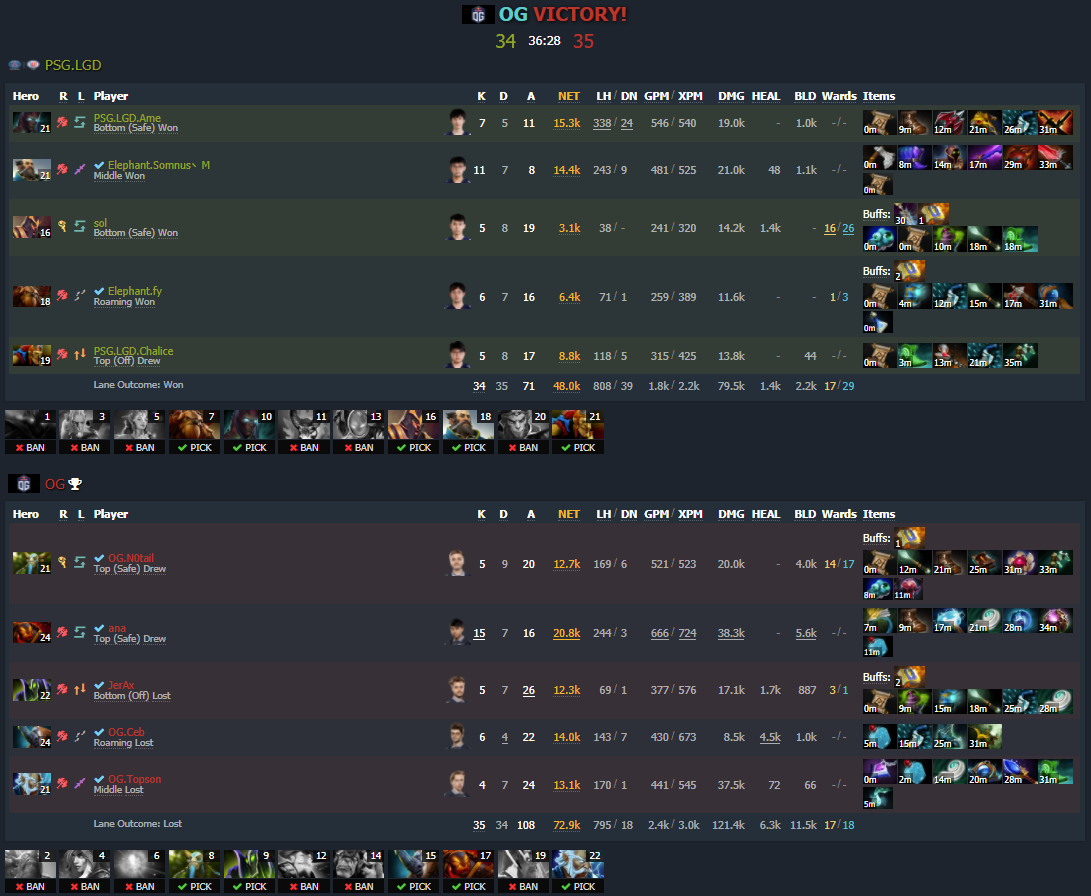 When OG started off their qualifiers journey, ana annihilated a lot of teams on the back of his Ember Spirit. But OG didn't really pick the hero a lot in Vancouver. Bringing him back for the last game of the tournament was a fitting tribute.
In fact, all of OG's heroes had a below average win rate in the tournament. But they knew what worked for them and they weren't afraid to go against the meta and take the risk, even in game 5 of the TI grand finals!
The game started as a disaster for OG, with PSG.LGD getting off to a great start and getting an early net worth lead. But in OG fashion, on the back of some clutch team fights and buy backs, the Green Dream pulled it back and took the game to claim the Aegis. The pattern of TI winners alternating between the West and China had finally been broken.

Team GPMs
The team GPMs per game for the two teams throughout the series were:
OG: 2162
PSG.LGD: 2240
The GPMs for both teams were quite high, much like what we are used to seeing in today's games. There was a steady rise in the average team GPMs throughout the years, and by TI8, it had hit the levels we are used to seeing.
With that, we come to the end of the deep dive into the grand finals of TI8, which was possibly the best one till date. Next week, we'll take a look at the contest between OG and Team Liquid in the TI9 meta analysis, which was the year when the first player(s) and organization were finally able to claim a second Aegis.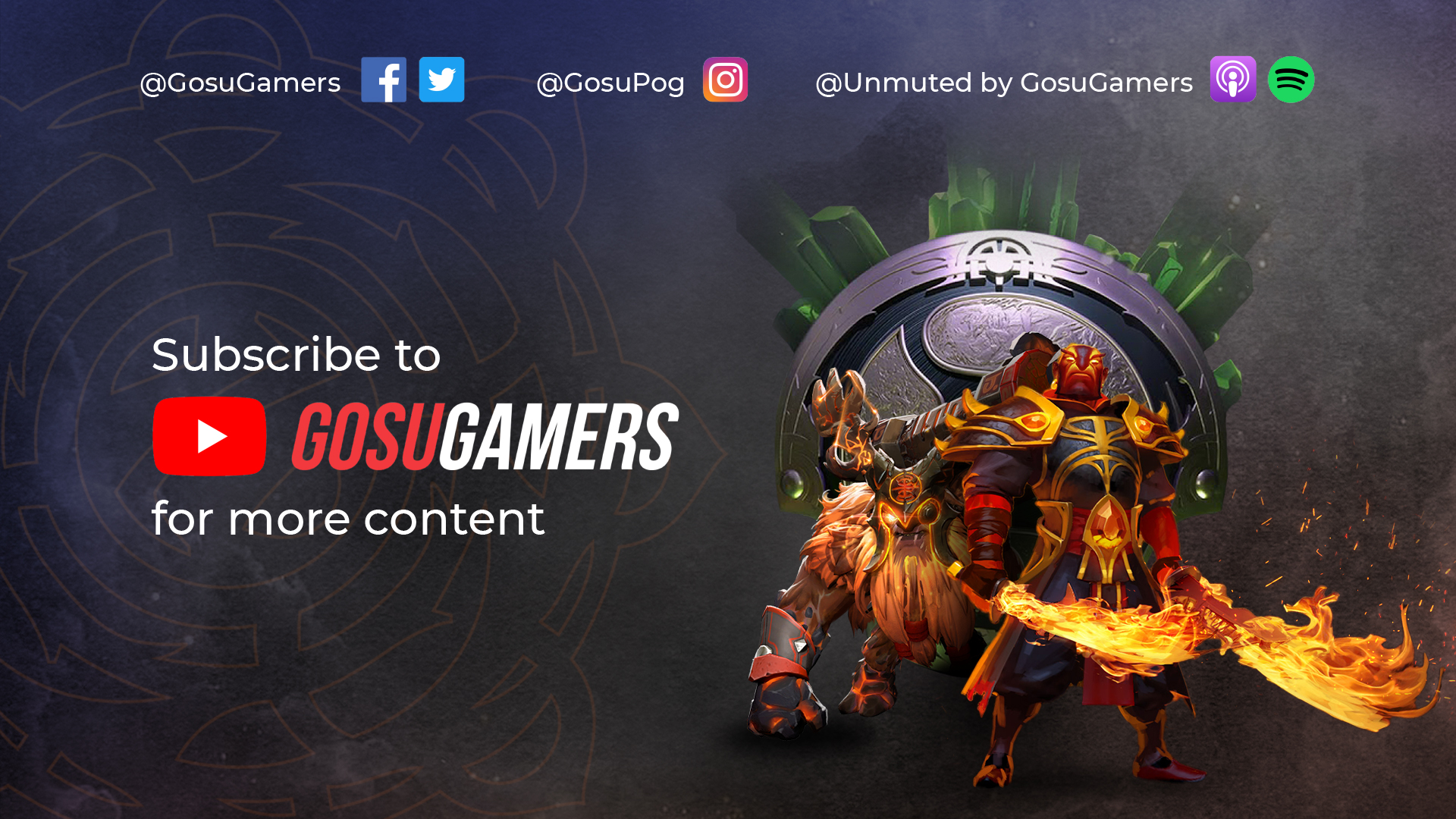 [Update] Dota 2 Compendium Predictions TI8 | ti8 dota 2 – Vietnamnhanvan
August 8th, 2018
It's that time of the year where everyone digs out their Ouija boards, Crystal Balls 90-sided dices, tea leaves and Tarot cards. I'm mostly partial to throwing darts at a dart-board. Yeah, you guessed it – it's Compendium Prediction time.
In the build up to both TI7 and TI8 there were frequent balance patches, with Icefrog acting as a greenskeeper attempting to create ideal conditions for the upcoming event. One of the problem this brings is that it means that for many predictions you need to look at an event smaller (and more recent) slice of data. Winstrike, Serenity, IG, and OG for example haven't played pro LAN matches in 7.16+. As a compromise, some predictions require looking moderately far back (general playstyle, overarching distributions) for the teams involved, some require looking very recently at trends across all teams (including teams not present at TI8), and some are just crapshoots anyways so it's almost random.
Tournament Predictions
We'll focus on the last section because it's the easiest one to use stats to get an advantage (they're all hard, but this is the easier) category to predict. The other sections we'll mostly skim through since there's often multiple predictions affected by one single outlier of a game (very long game with loads of kills, deaths and assists).
Total Games Played At Main Event
The Supermajor (which actually featured a superior format to The International) saw 21 bo3s and a bo5 final. The bo3s averaged 2.43 games per series, compared to TI7's 2.29 games per bo3 series. If we pin in the finals as a 4-game series, this puts a bound of 46.9 to 49.3 overall matches. If you think the games will be slightly closer, or the finals will go the full five games then go for 50-54.
My answer: 45 to 49
Reasonable alternatives:  50 to 54, maybe 41 to 44
Total Heroes Picked & Banned
Given that we predict ~47 main event games and there are ~144 games (could possibly be tiebreakers) in the group stage, this takes the total games to ~191. If we look at a similar number of the most recent matches involving at least one of the TI8 teams, we see 113 unique heroes picked and 102 heroes banned. Since TI only involves the exact 18 teams, and they each come in with a limited number of strategies – these values are probably slightly over-exaggerated (the bans more so than the picks, since teams sometimes ban off-meta signature heroes of their opposition).
My answer: 101+ picks / 91-100 bans
Reasonable alternatives: 91-100 picks / 81-90 bans
Most Combined Total Kills In A Game
For the next few predictions I'm just going to defer to the most recent ~190ish LAN games. I'm filtering on LAN games here because it generally means balanced matchups which is more reasonable than often imbalanced online qualifiers (even the TI qualifiers).
My answer: 101-110
Reasonable answers: 91-100, 81-90
Longest & Shortest Games
Since TI7 we've only seen 6 matches go beyond the 90 minute mark, and only one of those was on LAN (Fnatic vs Vici at ESL One Genting). We've also seen no games sub-10 minutes. Although The International is a land of mystery with cosmically rare events occuring – I think it's unlikely we see these get broken. If we look at the last ~190ish LAN matches we see only a few occurrences come close to the extrema I described.
Looking back at TI7 paints a similar picture for shortest game, but does feature two slugfests that exceeded the 90 minute mark: Liquid/VP and Empire/IG.V. This is probably just because TI is so important to everyone – teams are not willing to resign and will fight until the bitter end.
My answer: 90:00 – 99:59 as the longest game | 15:00 – 19:59 as shortest game
Reasonable alternatives: Either side of 90:00 – 99:59 as the longest | 20:00 – 24:59 as shortest.
Most Kills In A Game
I'm just going to ignore options below 16 – last year we had nearly 50 performances with more kills at TI. Let's look back to our ~190ish game recent LAN sample.
I'm somewhat tempted by 26+, but think I'll play it a bit safer and go with 23-25.
My answer: 23-25
Reasonable alternatives: 20-22, 26+.
Most Deaths By A Hero In A Game
Our trusty sample suggests 18-20 is the cutoff, last year Notail's Pugna held the record for most deaths with 20 (in a loss vs VP). I'm going to play it a bit conservatively however, and take 18-20, but 15-17 might be safer.
My answer: 18-20
Reasonable alternatives: 15-17, 21+
Most Assists By A Hero In A Game
Three players last year got 36+ assists: Solo, Q and super. Specific heroes like Bounty Hunter, Ancient Apparition, Spectre and Zeus are way more likely to get many assists – and at least in the case of Zeus and Spectre we should see them at least 12-15 times each. We're going big here.
My answer: 36+
Reasonable alternative: 32-35 (I'd be very surprised if this was < 32).
Highest GPM In A Game
Recently, Anti-Mage and Alchemist have been very rarely picked. These are the most notorious GPM cheese-gods, and the ones most likely to feature in any record-books. Beyond them, Morphling is probably the most likely candidate (and he has been picked relatively frequently in recent LAN matches). That said, only one Morphling ever has > 900 GPM in a LAN match (Sccc, vs OG at TI7) although many have come close. To me, this suggests 800-899 GPM is certainly the lowest I'll go. That said, all it'll take is one decent match from an AM or Alchemist to bust this, so I'm mostly tempted to go 900-999.
Last year multiple Alchemist's were picked, but only Ana's Alchemist (vs Execration) got over 1k GPM. On LAN in the last few months, only 3 heroes have broken the 1k mark.
My answer: 900-999
Reasonable alternatives: Either side of 900-999.
Heroes
Most Picked Hero
So many options – mostly likely versatile supports. I'm going with Windranger because I think a few teams will practice with her and have her in their toolbox. Will also be a common opener, and one that won't get too many bans. I think Crystal Maiden and Winter Wyvern are definitely considerations, but they also should get a fair amount of bans.
My answer: Windranger
Reasonable alternatives: Phoenix, Witchdoctor, Mirana
Most Banned Hero
My answer: Io
Reasonable alternatives: Crystal Maiden, Bloodseeker, Winter Wyvern
Highest Winrate
You want to pick some annoying and dodgy last-pick hero that's only going to be picked like 8 times and only by good teams. Initial considerations include Ember Spirit, Tinker, Huskar, Slark, Anti-Mage, Meepo, Templar Assassin, Broodmother or Queen of Pain. I think that Ember and Brood will be picked by teams in suboptimal positions (Optic sometimes go Brood when it's an okay pick, but not a great pick). Meepo will mostly be banned by teams against the good Meepo teams. Queen of Pain might also be a 2nd-phase staple for some teams, so the winrate could suffer as a result.
My answer: Templar Assassin
Reasonable alternatives: Slark, Huskar, Anti-Mage.
Highest Kill Average
Some kill-focused heroes will be good, including PA, Ember Spirit, Tinker, Clinkz, Meepo, Ursa, Morphling, Storm Spirit. The biggest concern for PA, Clinkz and possibly even Tinker & Ursa is they might not be picked enough. Huskar games might end very quickly though.
My answer: Storm Spirit
Reasonable alternatives: Tinker, Clinkz
Highest Assist Average
A few key heroes are head and shoulders above others in this category: Global Heroes (Zeus, Spectre, Ancient Apparition), Constant Fighters (Spirit Breaker, Bounty Hunter) and Teamfight Gods (Undying, Disruptor, Dark Seer).
I think Zeus will be picked a huge amount of times, and consistently get loads of assists. As a core he might also get a lot more kills than assists – but due to his aura will continue to score highly in this category. Spirit Breaker, Bounty and Dark Seer are unlikely to feature enough.
My answer: Zeus
Reasonable alternatives:  Undying, Spirit Breaker
Lowest Death Average
Difficult to catch annoying heroes.
My answer: Anti-Mage
Reasonable alternatives: Morphling, Weaver, Slark.
Highest Last Hit Average
My answer: Anti-Mage
Reasonable alternatives: Medusa, Shadow Fiend, Terrorblade
Highest Highest XPM
Will Meepo be picked 5 times? If you think so pick Meepo. Otherwise you're looking for cores that constantly are looking for kills (more efficient than timing-based hypercarries, or ones that rely on stacks).
My answer: Meepo
Reasonable alternatives: Weaver, Storm, Slark
Hero with Most Kills In A Game
You need a hero that will get out of control, but the enemy will believe they can fight on. Multiple good teams at TI8 have very proficient TA players, so I'm going to pick.
My answer: Templar Assassin
Reasonable alternatives: Morphling, Storm Spirit
Hero with Most Last Hits In A Game
Slightly different from average last hits – Anti-Mage aims to win the game once he's 6-slotted; whilst Medusa aims to turtle even longer.
My answer: Medusa
Reasonable alternatives: Anti-Mage
Teams
Coming into the event it seems that VP, LGD and Liquid are very close in skill at the top. Most people focus on the VP/Liquid rivalry, but LGD have shown to hold their own against both – and more recently pushed VP all the way to the 5th and final game at the Supermajor.
It's hardly surprising that I think these 3 teams will dominate the positive aspects of the team predictions, but it might be worth looking in which group Pain and Invictus Gaming end up because I view them as the weakest and if a good team is in a group with both of them it might mean two easier series.
To dig a bit more into the data, check out here.
Players
Like the team predictions, a lot of the categories just seemed like a Miracle/Maybe/RAMZES/No[o]ne showdown.
S4 & Yapzor are perhaps the most unusual picks – I think that Secret will have relatively long matches (will hold their own against the top 3, but also will play it patiently against teams worse than them). This means Yapzor will be playing more Dota than GH (who averages the most assists per minute over the sample I looked at). EG have shown they're willing to make interesting laning setups to favour their cores, and this might call for Gustav to play unconventional heroes. MidOne and Resolution have also played a huge number of unique heroes recently. I think that EG are a team that will be undervalued coming into the event – and if they coming top 6 or top 8 its means they play enough games to still qualify for this category.
To dig a bit more into the data, check out here. I mostly did normalization for the average skill of the opponents that the players played against.
OG vs VGJ.STORM – AWESOME GAME! TOP 6 #TI8 – THE INTERNATIONAL 2018 DOTA 2
Commentary by Lyrical TrentPax
Official Stream: https://www.twitch.tv/dota2ti
Twitter: https://twitter.com/DOTA2
DOTA 2 Instagram https://www.instagram.com/dota2ti/
Organised by https://www.valvesoftware.com/en/
Dota 2 Youtube https://www.youtube.com/user/dota2
Dota 2 Updates: http://blog.dota2.com/
JOIN MY CHANNEL 😀 ►http://bit.ly/noobfromua
นอกจากการดูบทความนี้แล้ว คุณยังสามารถดูข้อมูลที่เป็นประโยชน์อื่นๆ อีกมากมายที่เราให้ไว้ที่นี่: ดูเพิ่มเติม
OG watches \"True Sight : The International 2018 Finals\"
Join Dota2 champions OG as they watch \"True Sight : The International 2018 Finals\" for the first time.
One of the most EPIC COMEBACK in the history of DOTA | OG vs PSG.LGD Game 3 | The International 8
Source: https://www.twitch.tv/dota2ti
Commentary by Tobi, syndereN
Social Media:
Discord: https://discord.gg/kGuSHGH
Submit clip here: https://discord.gg/kGuSHGH
Twitter: https://twitter.com/PutTankInAMalI
Like \u0026 Share if you enjoy the video!
Subscribe to stay up to date with the best Twitch Dota 2 moments ever, straight from Twitch/Reddit.
If you have any issue with my upload(s), please email me @ [email protected] and I will remove it asap.
LIQUID vs FNATIC – 39-1 GG!!! – #TI8 THE INTERNATIONAL 2018 DOTA 2
Official Stream: https://www.twitch.tv/dota2ti
Twitter: https://twitter.com/DOTA2
Organised by https://www.valvesoftware.com/en/
Dota 2 Youtube https://www.youtube.com/user/dota2
Dota 2 Updates: http://blog.dota2.com/
JOIN MY CHANNEL 😀 https://www.youtube.com/channel/UCfsOfLvadg89Bx8Sv_6WERg/join
OG vs PSG.LGD – Game 1 – The International 2018 – Main Event – Grand Final.
OG Dota2 vs PSG.LGD PSG.LGD vs OG The International 2018: Main Event Grand Final Game 1 bo5.
►Fan`s community! Please Like and subscribe to the channel!
►OG Dota 2 at the tournament playlist https://www.youtube.com/playlist?list=PL0MpHtus53vGDzXqi5mCV4TjQ_lNhyJyB
►Subscribe to Fan`s Community OG Dota 2 on Youtube: https://www.youtube.com/channel/UC78z5kZPJY6jLfpG6e1j_hQ?sub_confirmation=1
►Fan`s Pages OG Dota 2 Team:
OG Fan`s Community VK https://vk.com/ogdota2
►Official Pages OG Dota 2:
OG Site http://ogs.gg
OG Facebook https://www.facebook.com/OGDota2
OG Twitter https://twitter.com/OGesports
OG Youtube https://www.youtube.com/channel/UCtMpG24wUeeP73BwxVtCc8w
OG Shop http://teamog.hitpoint.tv/
OG Instagram http://instagram.com/OGDota2
OGDota2 , Ti8 , Dota , OGDota
นอกจากการดูบทความนี้แล้ว คุณยังสามารถดูข้อมูลที่เป็นประโยชน์อื่นๆ อีกมากมายที่เราให้ไว้ที่นี่: ดูบทความเพิ่มเติมในหมวดหมู่Wiki
ขอบคุณที่รับชมกระทู้ครับ ti8 dota 2